Today, it is difficult to even imagine our daily life without smartphones. You wake up to the sound of your smartphone's alarm, and check the news of your acquaintances updated on social apps while on the go. I spend all day with my smartphone, searching for the dinner menu for today, watching videos until I fall asleep.
Each person uses a smartphone in a different way, but their own world exists in a small device the size of the palm of your hand. This is why Samsung Electronics wanted to provide users with their own mobile device control experience by combining innovative hardware with intuitive and easy-to-use software through One UI.
Samsung will soon support the new One UI 5, giving millions of Galaxy users new features that give them the freedom to choose their own mobile experience. Newsroom took a look at the upgraded features that will be newly experienced in One UI 5.
Your own smartphone, your own style
One UI 5 is designed to provide a mobile experience customized to each user's lifestyle. This function was added even in the most basic call reception process.
The new 'answer calls by text' feature gives users the option to communicate in a way that best suits the situation. Because you can maintain a call with the other party just by typing a message instead of your voice. Based on Samsung Electronics' AI platform, Bixby, it converts text into audio, delivers it to the caller on behalf of the user's voice, and allows the caller to receive what the caller says as text. Use it to your advantage when you need to talk to someone during a meeting, on a quiet train, or at a concert. You can continue communication in any environment without being interrupted or missing the time.
You use your smartphone all day, but the functions you need at every moment are different. There's a clear difference between waking users up early in the morning to help them get ready for a busy day and keeping them focused during work hours. A 'routine' allows a preset operation to be automatically executed according to the user's location, time, event, etc. A new 'mode' added here allows you to customize settings for different routines, such as sleep, exercise, driving, work, rest and more. For example, you can mute notifications and play music while you work out, or turn off the sound when you go to bed and apply Dark Mode to help you relax.
One UI 5 provides a smoother and more convenient user experience by applying a new and fresh look and feel. From the simpler yet clearer app icons to the use of colors, sophisticated details have been completed. You can experience a new design, such as an improved notification window for easier viewing at a glance, and a changed pop-up call display that allows you to more clearly select the answer or reject button when receiving a call.
Creating your own smartphone and expressing yourself with your phone has become one of the most important experiences for all users. In One UI 5, you can enjoy this experience from the lock screen. With just a few taps, you can select one of the videos to see your memorable moments more vividly on the lock screen, and even set the clock and alarm style on the lock screen at once.
Smarter than anyone else, how to use your phone 120%
One UI 5 also provides new features to work more efficiently in a mobile environment. The 'widget stack', which stacks several widgets in one space, allows the home screen to be used neatly and efficiently. Drag widgets one after another to overlap them in one space, swipe left and right to find each widget quickly and easily.
Introducing another new widget feature for fast and efficient mobile work. 'Smart Recommendation' automatically suggests new widgets according to current usage patterns and activity contexts, helping users to focus on the next task without interruption. Users no longer have to worry about missing out on something important.
You can easily extract and paste text from an image using the Extract Text from Image feature. Let's enjoy a smarter daily life, such as quickly capturing only the event details from the poster of the show you want to go to and sharing it with friends, or taking a picture of a business card to easily save the phone number.
In addition, 'connection between devices', which is newly provided in the settings, shows integrated menus that can control devices connected to the user's smartphone. All functions that provide connectivity to other devices, such as Quick Share, Smart View, and Samsung Dex, can also be found in one place. Don't miss the easy-to-find 'Switch Buds' menu to automatically change the buzz from one device to another.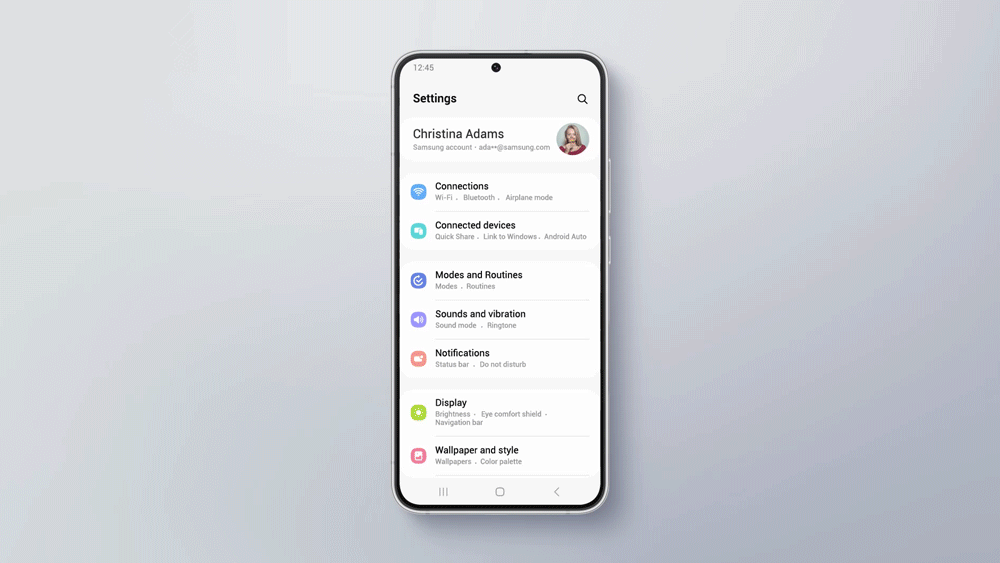 Use with confidence with convenient security features
Protection of personal information is a prerequisite for strong security. One UI 5 brings these two settings together in a clear, easy-to-navigate dashboard, making it easier than ever to protect your device and keep sensitive information private. You can check the current security status of your device at a glance on a dashboard that shows only the necessary information without clutter, and you can easily troubleshoot problems and find recommendations to help with security.
To keep users' privacy private, One UI 5 adds a new notification feature to the Share panel. [2] When you try to share a photo that contains sensitive personal information, such as a credit card, driver's license, national ID, or passport, you can double check whether the information was inadvertently included.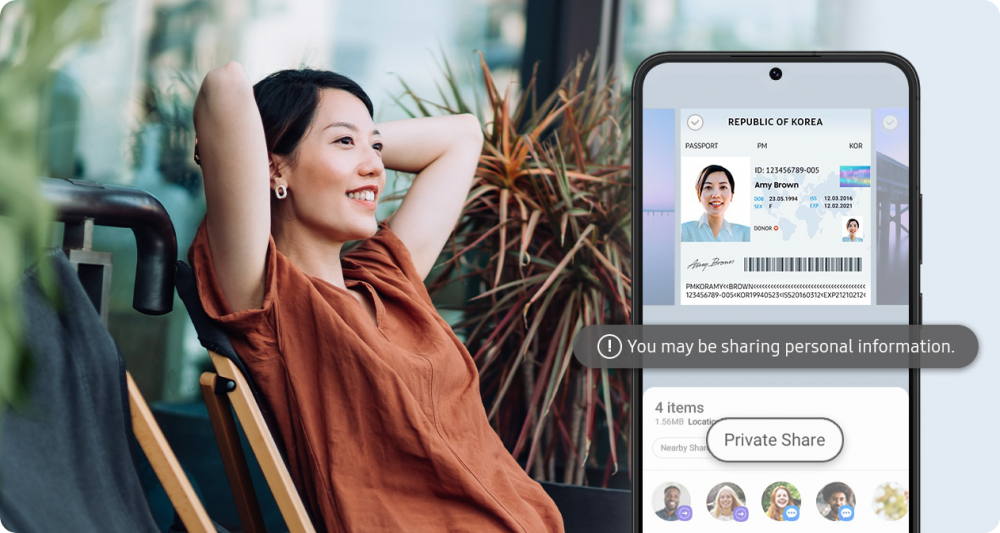 Galaxy by users, for users
Over the past few months, Samsung has been listening to the opinions of thousands of users who have participated in the One UI beta program, working hard to understand and deliver the mobile experience users truly want.
Beta program participants play an important role in providing a more sophisticated experience with each update by trying out the new interface before the release of the full version and actively sharing feedback. This year, Samsung Electronics launched the One UI 5 open beta program earlier than usual so that all users can experience the new interface as quickly as possible.
Feedback from beta participants was reflected in the full version of One UI 5. Samsung has received positive feedback about the new security dashboard through the beta testing process, and is looking at additional updates that give users greater control by reaffirming how important security and privacy are to users. In addition, it was confirmed that the text answering function is very useful in an environment where calls are difficult. Therefore, efforts are being made to expand this function, which is currently limited to Korean language support, to English early next year.
We expect Galaxy users to create a more complete mobile experience through the new features of One UI 5.