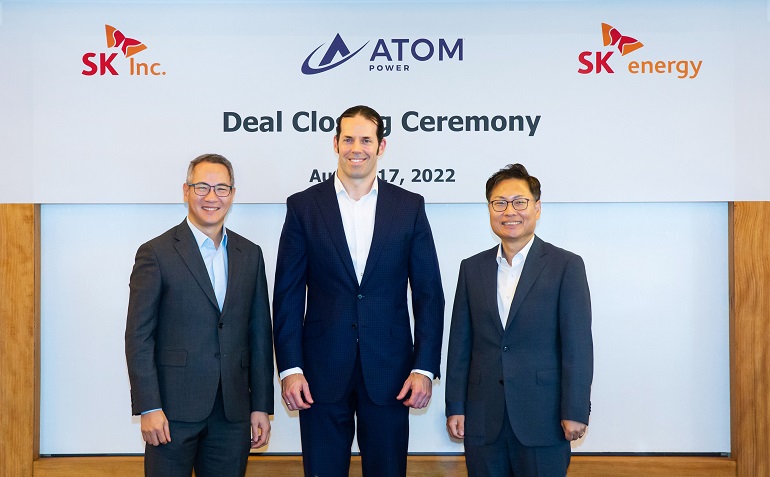 – SK Co., Ltd.-SK Energy acquires Atom Power, an energy solution technology company, for $150 million
– Atom Power, leading technology for semiconductor-based power circuit breakers… Can be used for EV charging, etc.
– Executives of both companies "Expect synergy in energy solution and mobility business by meeting the know-how of the two companies"
SK Corporation and SK Energy announced that they would acquire the management rights of Atom Power, an American energy solution company, for $150 million (about 200 billion won). 'Energy solution' refers to technology that helps to produce and consume electricity most effectively.
SK holdings, SK Energy, and Atom Power management signed an agreement on the 17th to acquire SK's stake at SK Serin Building in Jongno-gu, Seoul. Kim Moo-hwan, head of SK Corporation's Green Investment Center, Kang Dong-soo, head of SK Energy's S&P (Solution & Platform) promotion team, and Atom Power CEO Ryan Kennedy attended.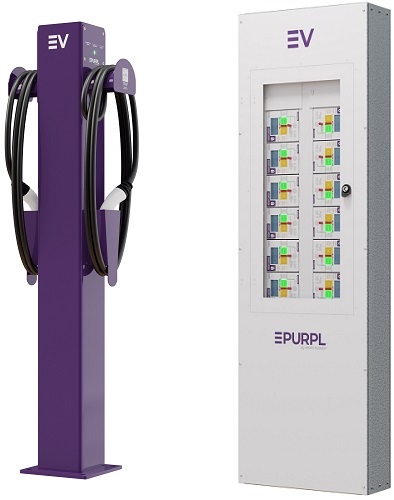 Atom Power, established in 2014, has developed 'Solid State Circuit Breaker (SSCB, circuit breaker controlled by power semiconductor)' technology and is conducting energy solution business and electric vehicle (EV) charging business in the United States. Unlike general circuit breakers that only block current when power overload occurs, they also measure and collect power usage data as an intermediate gateway (gateway) for each generation of power. This is thanks to the current sensor and software developed by Atom Power.
The data collected by Atom Power's circuit breaker is diverse, such as power consumption, solar power generation, electric vehicle charging, and ESS charging/discharging. The power big data collected by the circuit breaker can be used to predict the power generation and consumption patterns of each generation as well as regional units. When Atom Power's supply of circuit breakers expands, power producers can predict the appropriate amount of power generation and consumers can predict the price of electricity, which is expected to increase benefits in the energy market.
Atom Power's circuit breaker can also be used for EV chargers. The advantage is that the installation cost, area, and management cost can all be greatly reduced. This is because, unlike the existing method that requires an individual circuit breaker per charger, it can be constructed in a structure in which several small circuit breakers are integrated into one central panel. It is also possible to operate a charging station within the existing power capacity without expanding power facilities. Atom Power's circuit breakers are the only ones in this field to obtain 'UL Certification'*, a product performance and safety certification from the United States.
Atom Power's technology is expected to help SK build an 'energy solution platform' at home and abroad in the future. The future power industry is evolving from a centralized type to a distributed type, and in order to realize the distributed power industry smarter, it is essential to secure a solution that analyzes and controls information of power providers and consumers such as generation and consumption. Atom Power's technology has differentiated competitiveness in hardware and software essential to secure distributed power solutions, and is expected to be applied in various markets from EV charging infrastructure to residential and commercial buildings in the future.
In particular, SK Energy is expanding its mobility platform services such as refueling, car washing, and maintenance, which are currently in progress for internal combustion engine customers, to EV customers. I am planning to start a business.
The advantage of Atom Power's EV charger is that it can be made into the shape customers want by mounting only the minimum essential parts such as cables. SK Energy plans to combine this with its long-standing know-how in operating gas and charging stations. It plans to prepare an EV charging board optimized for the space centered on apartment houses such as apartments where several cars are parked for a long time, large complex shopping malls, etc.
Atom Power CEO Ryan Kennedy said, "Atom Power's technology is suitable for both the advancement of all power grids and the expansion of the EV market. We look forward to working with SK to expand our business to more customers."
"Through the acquisition of Atom Power, we will secure core technologies for the energy solution business, and use it as a stepping stone to implement an energy solution platform and discover various business opportunities," said Kim Moo-hwan, head of SK Corporation's Green Investment Center.
Director Kang Dong-su of SK Energy's S&P Promotion Team said, "As the No. 1 operator in the domestic oil market, SK energy's know-how and Atom Power's differentiated technological competitiveness in the energy solution field have helped SK Energy become an eco-friendly energy solution and mobility platform operator. We look forward to a win-win effect."
*UL Certification: U.S. safety standards developed and certified by the American Insurance Association Safety Testing Laboratory (UL) for the safety of industrial products.