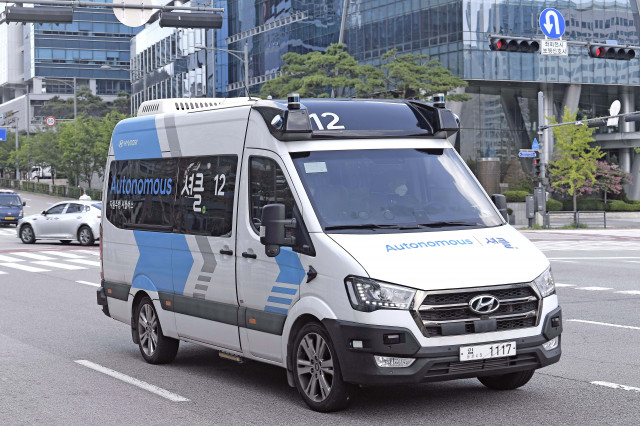 Hyundai Motor Company announced that it will introduce a robot shuttle pilot service that combines autonomous driving and artificial intelligence (AI) technology in Pangyo, Gyeonggi-do from the 29th (Thu).
"Roboshuttle" is a compound word of "Robot" and "Shuttle," which means bus, and refers to multi-seater mobility that applies autonomous driving technology. A level 4 autonomous vehicle can control the vehicle by recognizing and determining the driving situation on its own. Except in some limited circumstances, it is characterized by no emergency driver intervention.
Hyundai Motor will put two self-driving vehicles converted from a large van, Solati, into the RoboShuttle pilot service, and provide the service by combining the AI-based demand-response mobility service 'Shucle'.
The shuttle service, developed by MCS (Mobility & Connected-car Service) Lab, an organization that develops mobility services incorporating artificial intelligence technology, is the optimal route created through an artificial intelligence algorithm when a passenger calls a vehicle from a nearby stop through the app. By following the method, the vehicle moves to the called location, reducing waiting time and increasing dispatch efficiency.
Hyundai Motor's Robo Shuttle operates in an area set with a radius of about 540m based on the Pangyo Techno 3 Intersection. By operating the Robo Shuttle, which was first launched in Sejong City last year, in Pangyo Zero City, autonomous driving in a complex urban environment will be demonstrated.
Pangyo Zero City is an area where tech companies and startup workers move a lot. To respond to the congested urban environment, Hyundai Motor has been collaborating with Gyeonggi-do and Seongnam-si to collect autonomous driving data by preemptively building an infrastructure that can link traffic signals and autonomous vehicles.
Hyundai Motor Company operates a limited trial service for selected stakeholders and employees. Through this, opinions on technology and services will be collected, and based on the collected opinions, improvements will be made and provided to general customers.
"We are demonstrating various autonomous driving services such as roboshuttle and roboride based on our self-developed autonomous driving technology," said Ung-Jun Jang, executive vice president of Hyundai Motor's autonomous driving division. will continue," he said.
Meanwhile, Hyundai Motor signed a 'business agreement to build eco-friendly vehicle infrastructure and expand the introduction of future mobility' with Gyeonggi-do in June last year, and cooperated in building traffic signal infrastructure to respond to various traffic conditions in the city center. In addition, it has provided a roboshuttle service through the establishment of an autonomous driving test bed in the Sejong City area and Namyang Technology Research Center.