Samsung Research E&I (Experience and Insight) Lab ( hereafter 'E&I Lab ') co-hosted a hackathon to draw the future of health, wellness, and well-being and next-generation projection concepts together with theMassachusettsInstitute of Technology (MIT ) Media Lab . In keeping with the educational philosophy of former dean William J. Mitchell , MIT has been promoting hackathons for a variety of students for many years .
In the event held in Cambridge, Massachusetts, USA for three days from September 23rd, 12 teams of engineering and design majors from MIT , Harvard , Wellesley University participated in the event . Each team was tasked with solving real-world problems with a new projection concept and prototype .
Samsung Research, a leading R&D organization in Samsung Electronics ' DX (Device eXperience) sector, has been constantly challenging new technologies to broaden its research base . As part of this hackathon, the purpose of this hackathon is to break down boundaries and solidify collaboration with academia .
In addition , the hackathon is an opportunity to meet students' candid and open perspectives . When you approach a problem right away without going through complicated steps , unexpected solutions can come out.
The meaning of holding a hackathon can also be found elsewhere . Through this event, students not only got to know Samsung Research better, but also used it as an opportunity to check their skills . Samsung Research also had the opportunity to have a wide range of exchanges with outstanding talents from global universities at this hackathon .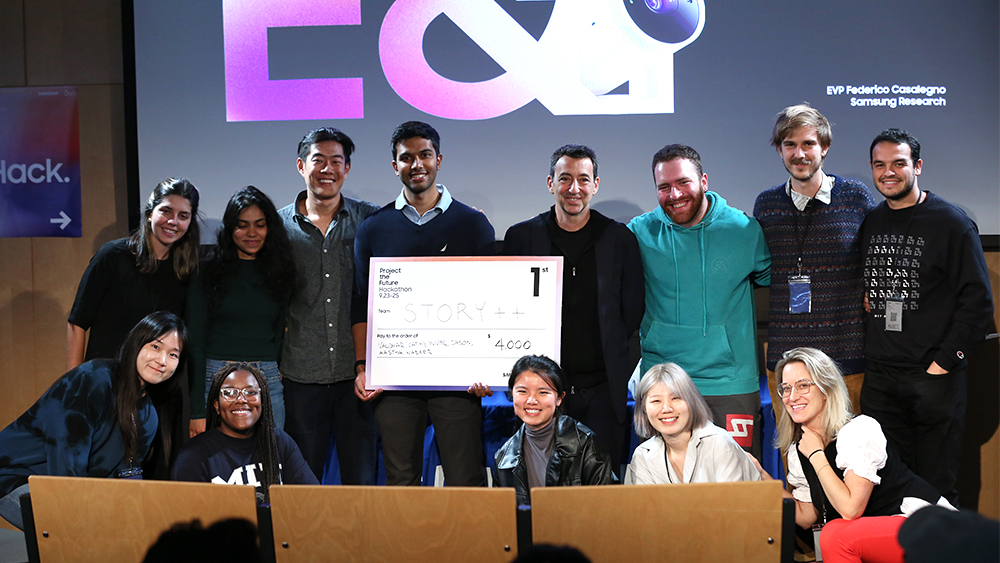 The final sequence of the hackathon was a time when 12 participating teams shared their concepts and prototypes with the participants . The judges, including Hyun-Jun Seung, Head of Samsung Research and Vice President Federico Casalegno, reviewed each team's results and carefully judged them based on problem-solving grounds , prototype level , influence, and uniqueness .
The hackathon, which gave a glimpse of the students' challenging and fresh ideas, ended the innovation journey with the announcement of the winners .