James Webb-Hubble
spurts out matter three times brighter after first simultaneous observation of the same object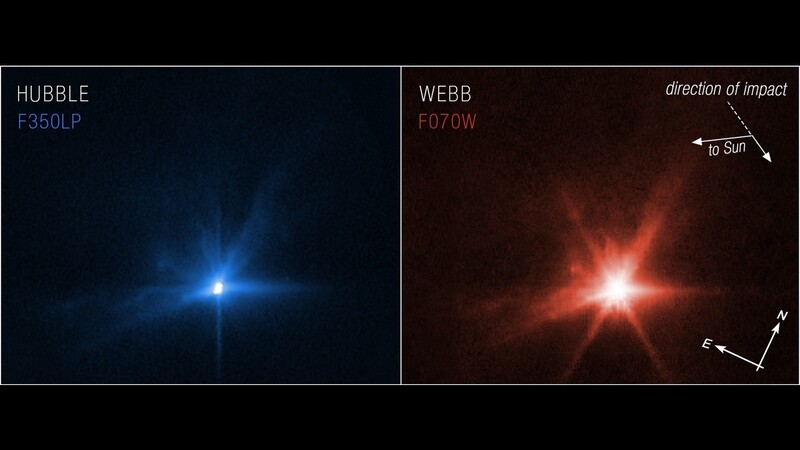 Image taken by the Hubble Space Telescope (left) and the James Webb Space Telescope shortly after the Dart spacecraft collided with the asteroid Dimorphus. provided with screws
A photo captured by the James Webb Space Telescope and the Hubble Space Telescope was released on the morning of the 27th (Korean time), capturing the moment of mankind's first asteroid impact test.
The National Aeronautics and Space Administration (NASA) announced on the 29th that two space telescopes were used to photograph the DART spacecraft colliding with the asteroid Dimorphos in space at a distance of 10.8 million km, about three times greater than the moon. Dimorphus is a small planet in the twin asteroid system orbiting Didymos, which is five times larger.
The experiment was part of a 'defense Earth' experiment to see if it could change the asteroid's orbit by colliding a spacecraft to avoid the risk of an asteroid impact. This is the first time that two space telescopes have observed the same object at the same time.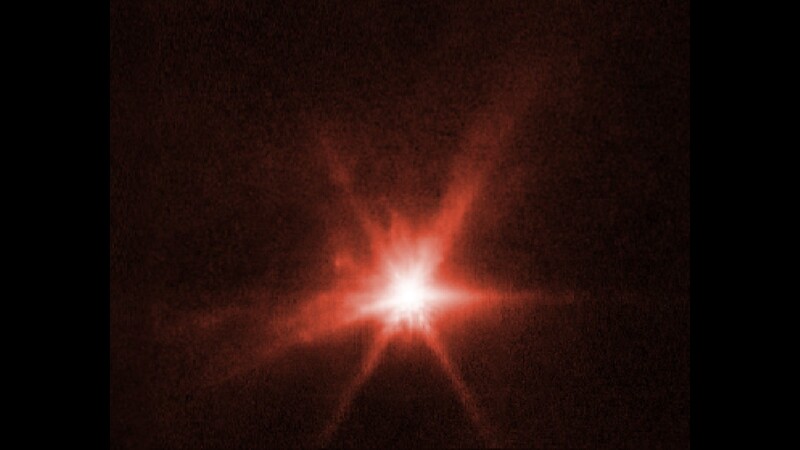 Picture taken with the James Webb Space Telescope 4 hours after impact. provided with screws
According to NASA, James Webb used a near-infrared camera to take 10 photos, one before the crash and five hours after the crash. Heidi Hammel and his team at the Association of Astronomy Research Universities (AURA) will publish the results of their analysis in a few weeks, NASA said. James Webb is conducting observation missions in outer space, 1.5 million kilometers from Earth, so it is much closer to Dimorphus than to Earth.
On the other hand, the Hubble Space Telescope first photographed the asteroid Dimorphus with a visible light camera 15 minutes after the impact. If you look at the published photos, the ejection from the impact from the asteroid is shining like a light beam.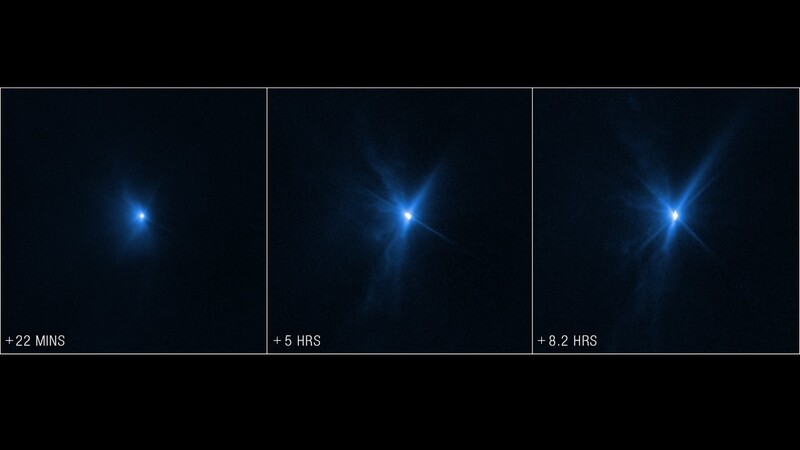 Hubble Space Telescope images taken 22 minutes, 5 hours, and 8.2 hours after the impact. provided with screws
NASA estimated that the asteroid was three times brighter after the impact. It also appeared brighter than usual for eight hours after the crash.
Hubble plans to observe Dimorphus 10 more times over the next three weeks, observing the entire process of the dust cloud growing and disappearing from the impact.
By capturing the moment of impact between the two space telescopes at different wavelengths (near infrared and visible light), NASA expects to obtain data that will help them understand the overall size and distribution of dust clouds.