Using a program that converts text into an image A platform to buy and sell "correct instructional phrases" appears in response

to "disclose and participate" in criticism of "misconduct"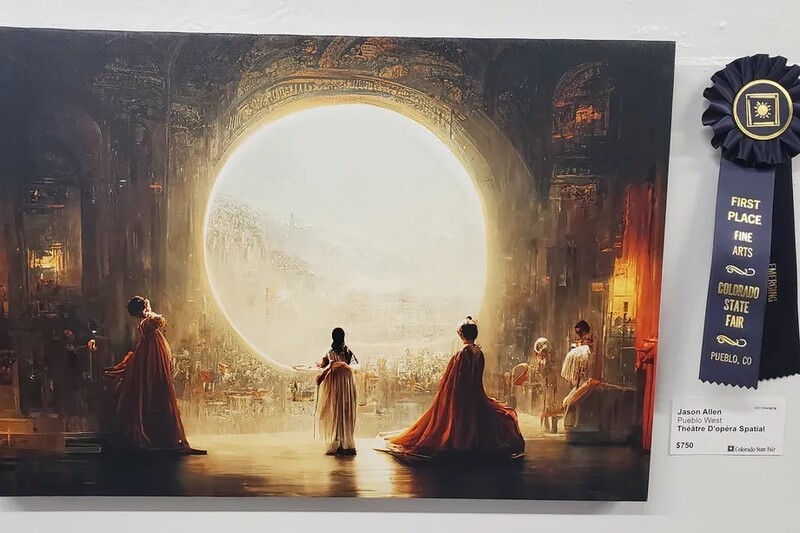 The artificial intelligence digital art 'Space Opera Theater' that won the first prize in the art exhibition. Jason M. Allen on Twitter
A work of art drawn by artificial intelligence won first place in a contest.
The New York Times reported that 'Space Opera Theater', a work submitted by game designer Jason M. Allen, won the first place in the New Digital Artist category at the recently held Colorado State Fair Art Exhibition.
This picture was made with Midjourney, an artificial intelligence program that converts a single line of text into a graphic.
For many years, paintings drawn by artificial intelligence have often been traded at high prices, but this is the first time that they have won an award in an official competition.
After being accused of cheating for a non-human AI work to win an award, Allen made it clear that his work was created using artificial intelligence, and countered that he had not deceived anyone about the origin of the work. He told The New York Times that he didn't break any rules because he announced the author's name at the contest as 'Jason M. Allen via Midjourney'.
Colorado state spokeswoman Olga Loback also said Allen had adequately disclosed the use of Mid-Journey when submitting the work. According to Allen's submission of the Digital Art Division rules, "artistic practices that use digital technology as part of the creative or presentation process" are permitted. "The judges said they didn't know that Mid-Journey was an artificial intelligence program, but they said they would have given Allen the grand prize if they did," the spokesperson added.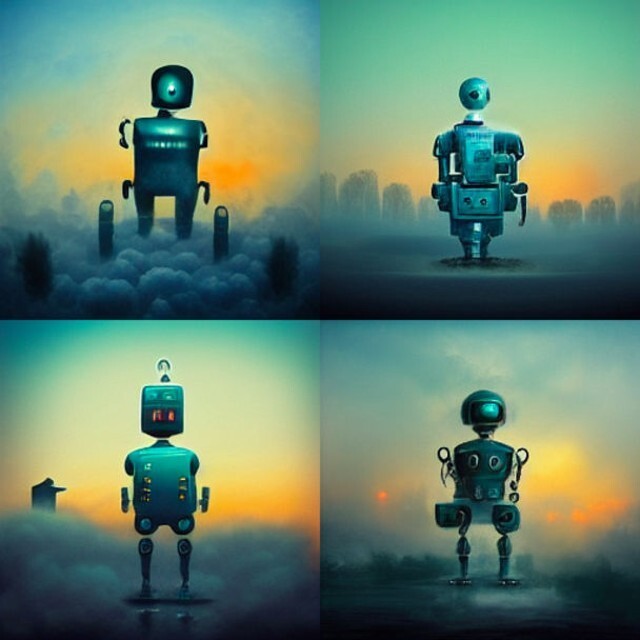 The pictures came out by entering the directive (prompt) 'what do robots dream of' in the mid-journey. Quoted from The Economist (2022.6.11.)
"I feel like I was inspired by the devil"
Allen said that the reason he put out his AI drawings at the fair was because he was curious to see how the work created by a new type of artificial intelligence image generator would be evaluated in comparison to the artist's own drawings.
I was invited to a chat server called Discord to test the mid-journey program that is currently in beta. He typed a few words in the chat room, and after a few seconds, Mid-Journey started making pictures and showing them. Whatever word he typed, Mid-Journey created a picture.
"I couldn't believe what I saw," he told The New York Times. "It felt like I was inspired by a demon from another world."
Curious, he selected three out of 100 paintings made using Mid-Journey, printed them, and submitted them to the 'Digital Art' section of the Colorado State Fair. He did not, however, disclose the specific words he entered.
The controversy began when a photo of the winner, which he posted on a Discord chat window after he received the award, was shared on Twitter. One Twitter user commented, "We are watching the death of art unfold before our eyes." "So terrible." "I know how beneficial AI drawings are, but can you claim that they are art?" There were also reactions.
But Allen's advocates say creating art using artificial intelligence is no different from using digital image manipulation tools like Photoshop.
Just as you need to know how to handle an editing program well to get a high-quality image, to get the picture you want, you need to input the correct phrase, and this is the logic that it falls within the domain of humans, not machines. Allen said in an interview with CNEN that it took him over 80 hours to get the three submissions he submitted to the contest.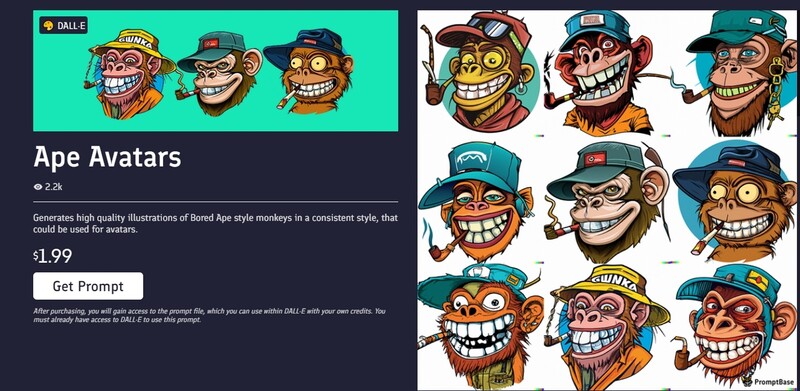 An online platform 'Prompt Base' screen that trades directives that allow you to get the picture you want. A stationery that creates ape avatars of various shapes is priced at $1.99.
Is the technology of finding 'correct directives' creative?
Artificial intelligence art software started to appear in earnest in the late 2010s, and its technology has been greatly improved recently.
New artificial intelligence tools such as Mid-Journey, DALL-E 2, and Stable Diffusion create and show a plausible picture just by entering a few words.
As a result, finding the exact instructional phrase (prompt) that leads to the creation of the desired picture became a skill. Prompt started to form a market to the extent that a new job called 'prompt engineer' appeared.
Recently, in the US, an online platform PromptBase that trades directives to be entered into Dali 2 has been opened. They range from $1.99 to $5 each. When a transaction is completed, PromptBase deducts 20% of the transaction amount as a commission. It is similar to Apple and Google taking a certain amount as a fee when payment is made on the Apple Store and Play Store.
The debate over artificial intelligence, or more distantly, machine-involved art, is actually old.
When the camera was first invented, painters saw it as a corruption of human artistry. For example, the 19th-century French poet and art critic Charles Baudelaire denounced photography as "art's deadliest enemy". In the 20th century, digital editing tools and computer-based design programs came under fire for similar reasons.
However, new image tools that appeared along with the development of technology gradually moved toward the center of the world with the response of people. And while each building their own independent world, they expanded the concept of art and opened up a new market. What kind of path will the controversial artificial intelligence painting tool take?